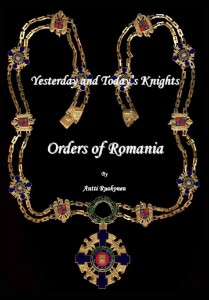 Yesterday and Today's Knights – Orders of Romania
(ISBN 978-952-92-8065-0)
512 pages, softcover in English with a short abstract in Finnish.
466 large format images of insignia, recipients, bestowal ceremonies, award documents, cases of issue and more.
Describes all Romanian Orders from the eras of the Principality/Kimgdom (1877-1947) and the current Republic (1989-) and connected Decorations.
Brief history of Romand and that of its Royal House
Short biographies of a few select recipients.
Collector's word.
Sizeable appendix with award statistics.
Published in 2010.
Sold through the following vendors:
Michael Autengruber
Willy Dufossez: