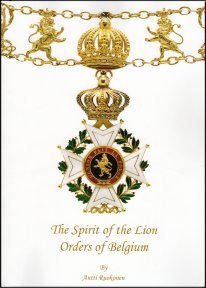 The Spirit of the Lion – Orders of Belgium
(ISBN 978-952-93-0391-5 and 978-1475262247 (US Edition))
302 pages, softcover in English with a short abstract in Finnish.
256 large format images of Orders insignia, cases, documents, recipients, insignia details, etc.
All five Belgian Orders described, with measurements, details, types, ribbons, award details and more
Biographies of King Leopold I & Leopold II
Biographies of three knights of Belgian Orders
A short history of modern Belgium
Hierarchy and timeline of Belgian Orders
A healthy appendix with two document groups, ribbons, insignia centres, manufacturer marks and more.
Published in 2012 and 2014 (US Edition).
European edition is sold through the following vendors:
Michael Autengruber

Willy Dufossez:
and the US Edition through the Amazon network and their partners around the world: Paragraph
http://www.amazon.com/The-Spirit-Lion-Orders-Belgium/dp/1475262248